What is transmedia projects?
Transmedia is defined as a narrative or project that combines multiple media forms. A transmedia project may combine many different types of prints or prose text, graphics and animation, or work across multiple platforms, such as different types of social media platforms, interactive websites or advertising outlets.
One example of transmedia project is "The Human Scale", which consists of filming a lot of people singing, then using a piano we can play with her voices. Now I explain more of this project:
Human scale
Human Scale is an ongoing mission to create a fully playable instrument of humanity. This global collaboration experiment began by filming a lot of cross section of everyday New Yorkers singing. Their individual notes are woven into a full interactive video installation that the public can play with, using a piano. From amateur key banging to virtuosic recitals, each player of the instrument brings to life an immersive audiovisual experience that fuses music, film, people and technology into a living, breathing, singing cross section of humanity.
Symphony with many faces
-Human Scale is an experiment for unite voices (and faces) of the different parts of the world.
-Was an installation that everybody can play, exploiting the technology for uncover one human experience more deeper.
-Was an stage for performance where world class musicians can collaborate with the music of people from around the world for audiences everywhere.
-Was an innovative documentation of humanity and the power of music and technology to unite us, we think that it's so beneficiary for the culture.
Growing instrument
The project was born as a 2 octave prototype using a toy piano and has since grown to 4 octaves (49 keys) housed in a antique harpsichord (clavicèmbal, instrument musical de tecles). We have created melodic scales with Guadalajara, Mexico and New York City, and percussive instruments that turn humans into drums; but the journey has only begun. The project will grow much more, on the cities that will not have participated yet.
Invitation to play
The more cities we can bring the instrument to, the more of humanity's music we can capture, and the deeper and more transcendent our human instrument becomes.
We believe music and technology have the power to unite humanity. Lets play together.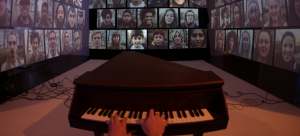 Another interesting transmedia projects: Clouds (Jonathan Minard, James George),
Use of force (Nonny), Circa 1948 (Stan Douglas with the NFB Digital Studio), Choose Your Own Documentary (Nathan Penlington, Fernando R., Nick Watson)…