Hello!! How are you? Surely everyone already knows that today social networks play a very important role in our lives. So much so that these last years have also become a very important factor in your work. So, you know to what extent can your social networks influence a client? How can I get more out of my social networks? Why it can be important to take these details into account? What are the things I need to look for to make a profit? How can I get more followers or possible future clients?
There are different social networks, and each one has its advantages and disadvantages,
In this post I will explain how we can get more out of our Instagram, in order to find work or reach new customers.

I will speak from my point of view, not so much from my experience, but more of my knowledge.
There are many factors that can make a difference, but these are the main things to keep in mind:
Take care of your feed: Your feed is very important when it comes to persuading people. A well-planned and planned feed will give a much more professional image and will be reflected when it comes to convincing potential customers / followers. A good feed can serve you perfectly as a portfolio to teach and show your customers.
Use hashtags: Use hashtags in your posts. Hashtags related to the content of the publication will allow you to reach new clients / followers that you did not have and in this way your project may be growing.
Follow people of your interest: People with profiles related to you can recommend or help to get also new customers / followers. Continue, comment, and post I like about your posts. Also, if you are presented with the opportunity, collaborate with other people on Instagram and mention them. This way your followers will be able to have certainty of you.
Be regular: Despite the previous advice, one thing is clear, if you do not publish on a regular basis it will be very difficult to achieve your purpose! Post one  photo in the day, or one every two days, or one a week … but try to be regular. If you're not, you'll get fans, but they will stop following your page soon after you've discovered it.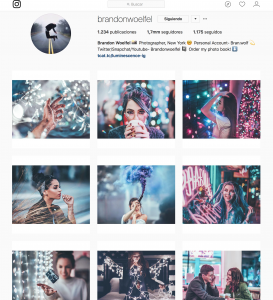 And that is it, I hope it has been of your interest and help you grow your projects!