Mailchimp is a website that allows you to create nice emails, what do I mean by saying that? Well I'm talking in marketing language.
A nice e-mail is the one that creates an impression on the client. A client doesn't want a written email which is a bit boring. The client might want an e-mail with some graphics, images, nice links… to easier see the info we want to give them. They work under the lema "Send better email".
This platform it's used by  companies and also bloggers as a marketing tool. This is how it looks: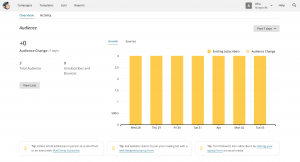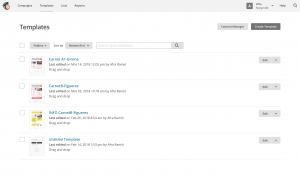 This website obviously is now an enterprise managed by Rocket Science Group, an American company . It was founded in 2001  as a paid service but added a freemium option in 2009.
The main difference between the paid service and the freemium option is the automation system and the subscribers ( amount of users you send an email to ). You'll understand hereunder with the pros and cons of this platform:
ADVANTATGES:
They have some of the most restrictive sending policies. When you're designing and creating an email, they give you repeated tips to send better email (ie, examples of non-spammy subject lines; examples of adding clean, opted-in addresses to your lists, etc). This helps as the clients won't see the email in the SPAM folder.
The platform has a true drag and drop design builder. They have a built-in, live previewer. This  means that anyone can implement a complex email design without having to work with HTML ( something that you could also do if you wanted ).
If you have less than 2,000 subscribers and send less 12,000 emails per month – you pay $0 per month. Unlike other providers, they don't have a free trial. Instead, they have a free account. If you are a small business, it's no risk and no payment.
MailChimp integrate with plenty of other apps. Also they  have an entire suite of native apps for different types of customers. Here the list of the free Mailchimp apps.
Even if you don't do big events, having mobile as an option makes a huge difference for when you do need it.
DISADVANTATGES:
Mailchimp has a kind of unusual language. It's like it has it's own. If you come from another email creator, you might need some time to adjust yourself to its words and meanings.
It's a bit expensive for advanced email marketers, MailChimp has a $199/mo service to help with automation, multivariate testing, etc. The tools they supply are awesome and it saves up a lot of time and work.
MailChimp reserves the right to suspend or cancel your account. If you're getting too many unsubscribe notifications or receiving spam complaints about your emails, MailChimp can suspend or cancel your account without even saying anything to you.
I hope everyone understood what Mailchimp is and what is it useful for! Remember: emails must be nice for the client !!
If you want to get started with Mailchimp there are a lot of tutorials, for example:
More info here:
https://www.shivarweb.com/10141/mailchimp-review/
http://www.elleandcompanydesign.com/blog/2015/3/17/the-ins-outs-and-ups-of-mailchimp