Initial phase (STEP 1)
This first phase is in contact with your idea, with the sector and with mobile technology. Before youget in search of developers or designers you have work to do. Let's start with a first real contact with your idea.
-The idea of Android app. The first thing you need to create an Android app is to have a good idea. The ideal is that it meets a need, which solves a problem with mobile users. Check your competition. If there are Android applications that already cover this need,make a better app. Mature this idea until you think it could be viable.
-Mockups. If you already have the idea clear, you will find a piece of paper on your app. Make it simple, basic, without design concepts. The Mockup must reflect the basic operation and interaction of the user. Try to be easy to use and understand by the user.
Business phase (STEP 2)
In this second phase we went from the idea to the project. We still do not put our hands on the work to create an Android app. But we need to define the project more broadly and in detail.
-Model of business and monetization of your Android app. It's time to define the business model of your Android app. Create an app so that it does not make sense. What do youwant to achieve with her? How are you going to get it? That's it. As well as monetization methods. We include them in this phase since they must be decided before entering the development and design phase of the application itself.
-Definition of the application project for Android. You have to create a document that reflects all aspects of your Android app. From the most basic part like the mockups to the forms of monetization or the colors of the design of the brand if you have already chosen them. If it is not 100% complete, you can do things in the inkwell. For example, if you need a separate design or a specializedconsultancy.
Phase of deve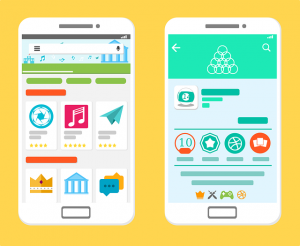 lopment and design (STEP 3)
This is the longest phase of the entire process of creating Android applications or for any other OS. We enter the serious part, in the development. We are one of those who think that since you throw yourself in the pool of the mobile, you have to do it well. It is useless to create an app without thinking-well, without developing it or not promoting it. We will start then to find the best Android professionals that fit your project.
– Android app development team. Since you want and do not know how to create an Android app, it's best to find out who you know. You have to find a good specialized development team on Android. Specialized in creating apps similar to yours.
-Android app design. It is imperative that you have in mind the design of applications for your project. In the case of designing native Android applications you will have to think about the operation of this operating system. For example in the animations of the design material, in the intelligent notifications, etc. In general, the design of applications for the US Android seeks visual simplicity.
Launching phase (STEP 4)
Once all the processes have been validated, your application is almost ready for publication. Before throwing it you have to prepare some things so that it has all the possible repercussions. In fact the first week of an app in the store is crucial to gain visibility and start to position itself.
-ASO, the SEO of mobile applications. ASO owes its name to its acronym in English for "App Store Optimization". That is, ASO is the positioning of your app within the app stores. To get a good ASO for your Android app we have to define the keywords well. It is highly recommended that you have an ASO expert for this task. Since if you can not position yourself well, you will not generate downloads of your Android app.
-Prep a press kit. Before the launch, it is advisable to prepare a press pack to send to the media. Prepare a press release, promotional images of your app and other materials that you may need to
-Spectacular launch Now yes … To launch your app! Keep in mind that the rise to stores is not immediate. In the case of Google Play it usually takes a couple of hours, but for other Stores such as the Apple Store it may take several days. Synchronize your release in case you launch your app for several operating systems. And once your app is up, start the promotion that you had prepared in advance.
Promotion phase (STEP 5)
This is an essential phase. Many people who do not know how to create Android applications and succeed focuses on development. But the promotion part is just as important and requires the same budget that you invested in development. Without this phase your development will eventually disappear in stores. In addition to the most traditional promotion, we recommend that you campaign and promote your app at:
– Specialized media. In other words, in the media that speak of mobile applications, but also in the media in your sector. For example, if you have created an Android app for cooking recipes, you can promote it in the form of cooking and health.
-Influencers. Create relationships with influencers in your sector. For example, if you have a fashion app, contact lifestyle or fashion influencers to prove your app. If you like and promote it you will reach a large audience.
-Advertisements. You can always bet on the ads. I do not mean those of television, posters, etc., that you can also do it. Take advantage of the online nature of the apps to promote them with banners, ads on social networks and ads in the app of other applications.