Hootsuite is a media management platform which allows you to organize all your social network profiles, it's used by people or companies which have a lot of profiles in different social networks. How does it work?
Ryan Holmes, a Canadian computer programmer and internet entrepeneur had an digital services agency, Invoke Media, when his agency was gaining popularity he needed to manage his social networks profiles in an easy and fast way, finding that there was no product offering this he decided to create Hootsuite in 2008.
The core features of this platform are the following, in each feature there are different sub-functions one of them are avaible for each version and others only for the most professional ones.
Scheduling.
Content Curation.
Analytics.
Monitoring.
Team management.
Security.
Apps and plugins.
There are different versions of this platform, one of them is free but it's very limited, then there are four payment plans.
The main features of the free version are:
3 profiles with one password.
Basic analytics: supervise your followers and their interests.
30 programmed messages.
2 web sharings.
More than 15o free and paid plugins.
Online help center.
Free social network courses.
The payment plans are the following:
You can try a free version of each plan for 30 days.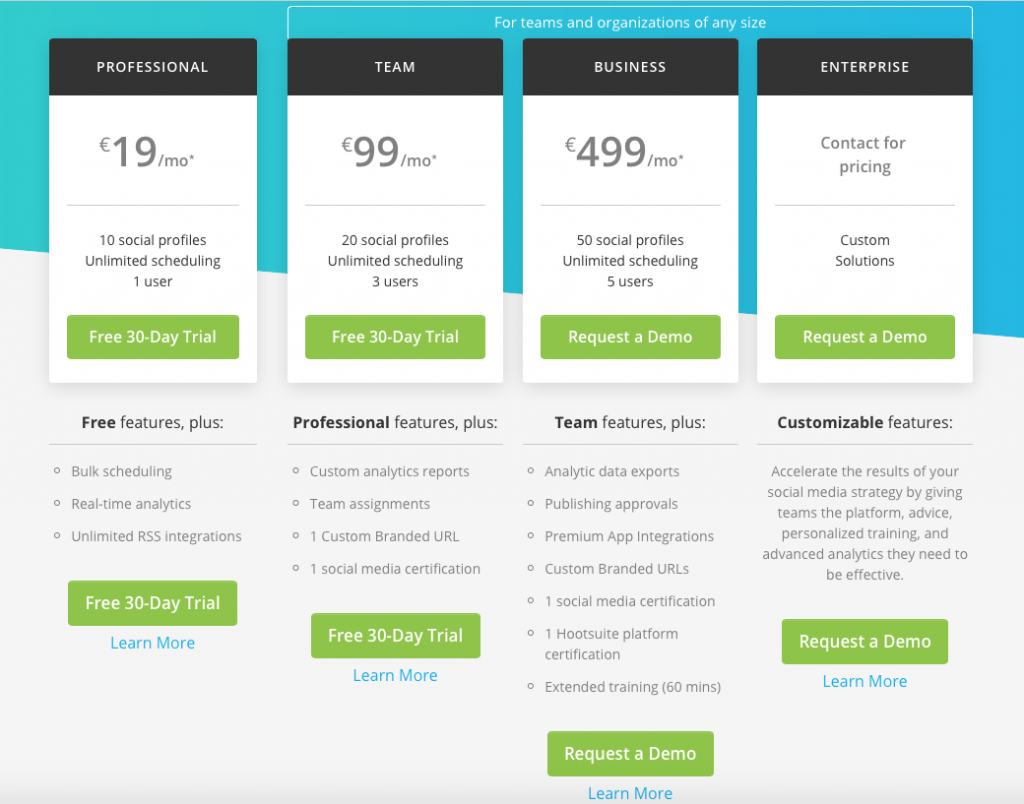 Which social networks are compatible?
You can connect with over 35 different social networks but the most used are this:
Facebook
Instagram
Twitter
Youtube
LinkedIn
Pinterest
Google +
Foursquare
You can also download a lot of plugins to improve your experience on Hootsuite and to make your management more comfortable, most of them are payment apps which you have to pay every month.
How does it look?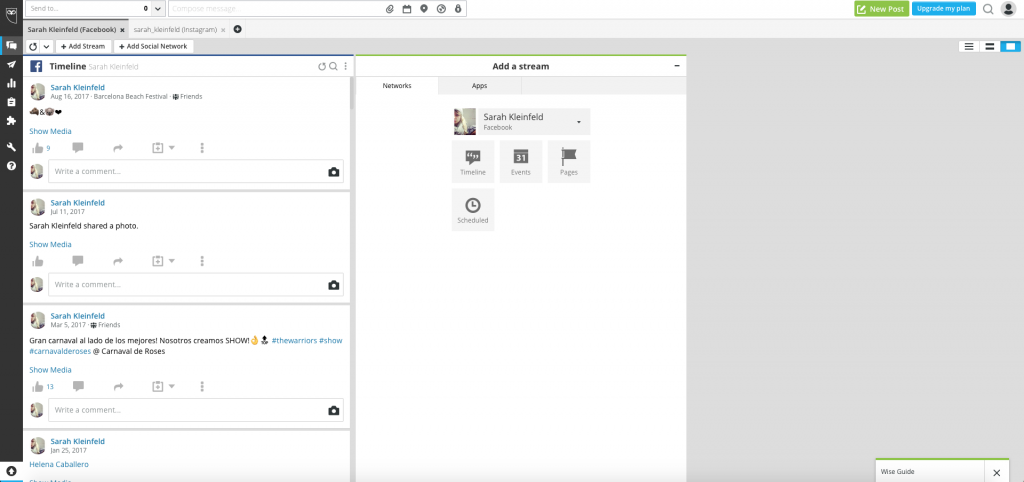 In the top bar in form of tabs you can see the social networks you have linked with Hootsuite and you can change from one to another very fast, then under this you see your profile and on the right there are some icons where you can manage which sections of your profile you will see on the dashboard.
On the left you can see some icons, there you can configure the automatic publications on your profile, see your analytics and install plugins and apps to improve your experience.
In every moment you have a tutorial avaible on your dashboard, on the footer you can see a little white rectangle called Wise Guide, when you click there you get some suggestions of many features of this platform and when you click on one you will get a step by step tutorial showing you how to do different things on Hootsuite.
It's a very useful tool if you are an active person in social networks and if you have to have it always updated and you have no time to enter to every profile separately, here you can manage all your profiles on one page in an easy and fast way. Maybe the thing that the free plan is very limited is a disadvantage but to start it's fine.
If tou think you need this try it, you will not regret!