This post is aimed at the development of apps for mobiles and everything related to the design of these platforms dedicated to the user.
First of all we have to take into account everything related to what is seen in first view on screen.
All this has to be seen for the user as something very easy to interpret. The navigator has to feel comfortable with what he sees and that this allows him to interact with the app more easily.
One of the first points that must be met is to obtain a coherence with the corporate design. The identity of our brand must be established to start planning the presence in the mobile. The chosen identity will be our letter of presence.
Select the right model for your sections.
The idea is to adapt the design of each section to the content that will be displayed so that it stands out.
If your content is basically made of text, but is illustrated with beautiful photos, you should highlight these as much as you can. If your app is basically made up of visual content, find the best way to organize it.
 You should also choose the appropriate navigation mode for our app according to the theme.
If a news application is created, it is possible that we have many themes and therefore many sections, in this case we should use a swipe mode navigation, ideal to show many sections at once.
The icon and the splash screen are the first element that your end user will see when they download your app.  Spend all the time necessary to create the icon and welcome screen.
It is the first impression that your users will have, so you need them to connect with them.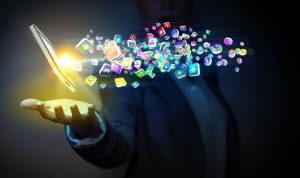 These are some of the steps to follow to make a good mobile app. 
I hope that you have found it useful for your work,  enjoy it with health.