The following points will help you to be a better community manager or simply to have a better control of your brand in social networks.
1.- MEET THE MARKET
It is essential to know which is your market. This may seem quite obvious, but the truth is that a lot of companies don't know how are their customers. In addition to knowing the age and socioeconomic level of your customers, you should know what worries them, why they consume your product or service, what content they like to share on social networks, etc.
You must identify well what customers ask of you and know very well the company which you work.
2.- ORGANIZATION
It is the most important point of a Community Manager. If you work in account, you must be organized to facilitate your work. But if you work on more accounts, you must be in order to avoid problems. Look what happened with the FNAC company account.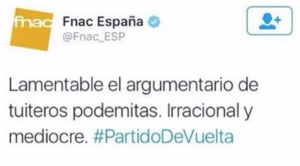 This is what can happen to you on one of those days of work overload or just a mental oversight. Therefore, all the senses must be put into the work and you have to have organization.
3.- UNPOLLUTED PERSONAL MARK
People have to know that you are an expert. If you are an expert in communication and digital marketing should be portrayed on your LinkedIn, if you are a wonderful photographer, must be demonstrated on your Instagram, if you are the latest of all the news you have to be active on Twitter. This way if you never have a problem people or the company can forgive you.
4.- NETWORKING
An important source of learning is the exchange of experiences with other people in the profession. There are many methods for this. Through social networks, participating on Facebook groups, LinkedIn, following lists of interest on Twitter or attending networking groups, conferences, seminars, etc. Without a doubt, this last one is the most enriching. What is learned in a conversation with someone anywhere can be equal or more enriching than a book.
5.- RESEARCH
If there is a complaint in the network, the easy thing is to give a quick answer of those that are in the list of FAQs. But it can not always work. You have to be very clear about what happened, why it happened, what consequences it has and how it could have been avoided.
With a well-argued answer and with the knowledge of all the facts, it is quite easier to end the controversy.