What is Wix.com?
In the online age that we live in, having a professional website is an absolute necessity for nearly all career choices and business ventures. A great website can simultaneously operate as a marketing tool, a store platform, a display of works and skills, a communication channel and as an engine for branding. If you want a website that can multitask all of these duties with force, Wix is just what you need.
Wix.com is a platform for web development based on the cloud that was developed and popularized by the Wix company. It allows users to create HTML5 websites and mobile sites through the use of drag-and-drop online tools. Users can add features such as plug-ins, e-commerce, contact forms, email marketing, and Community forums with their websites using a variety of applications developed by Wix and third parties.
Wix is built on a freemium business model, earning its income through premium upgrades. Users must buy premium packages to connect their sites to their own domains, eliminate Wix ads, add e-commerce capabilities or buy additional data and bandwidth storage.

It helps us to create your own website with ease. There is no need to add a single line of programming code. It is designed with a colorful graphical interface with drag and drop function, the creator of websites was made so that it is very easy to use and allows complete freedom in creation. You can choose from thousands of professionally designed web templates or create them from scratch.
The best way to learn how to create a website is to start with a template and then simply click to replace and customize. You will not believe how easy it is. If you want to create a site from scratch, it is also simple to add elements such as titles, logos, clip art, photo galleries and more as you progress. Publish in 1 step and your site will be available online. Because all the sites created with Wix are search engine friendly, you can get them to find them in these search engines, and you will enjoy more public traffic on line interested in you and your website for free.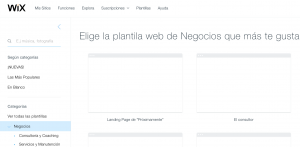 What Wix does well:
Users who gave Wix a positive rating were happy with how intuitive Wix is. The drag-and-drop system is easy to use, and it allows businesses to create websites without any HTML coding knowledge.
What Wix does not do well:
Negative Wix reviewers complain about its slow servers. Websites created with Wix sometimes load slowly and are thought to not be very SEO friendly, which means websites made with Wix may not show up on the search engine results page.