There are many tools or web pages that offer the possibility of downloading the Instagram profile photos, but the truth is that most do not allow downloading the profile photos in full size. Even if we try it manually, the photo that will be downloaded will be a thumbnail, not full size. Next, we'll show some websites that allow you to download Instagram profile photos at full size for free.
Below I'm going to show you free Webs to download Instagram photos at full size
All the websites that we are going to show below work in much the same way and are very easy to use. To download any Instagram profile photo of some of our friends, followers or users of the social network, the first thing we are going to have to do is go to the site in question from the browser.
Now, the next thing we have to do is indicate the Instagram user name from which we want to download your full-size profile photo and with a single click, we can see how the full-size Instagram image is shown to us and even we have the option to download it in that size on our hard drive.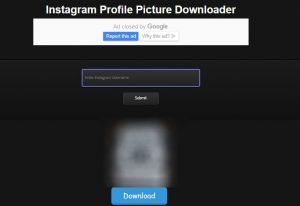 One of the sites from which we can download Instagram photos at full size is Instagram Profile Dowloader. Just go to the website from the browser, ask us to indicate the username on Instagram we want to download the profile picture, automatically proceed to its recognition and if everything goes well, we will show the profile photo of that person's full-size Instagram. Below you will see the buttons to view or download.
The same can be done from the InstaDP website. Just go to the site, write the username of Instagram and click on the View Picture button, we will see the Instagram profile photo of that person at full size. It does not show a button for download, but by clicking with the right mouse button on the photo, we can download it.